ESP
| ENG
Search:
PROGRAMMES
Reading Recommendations
December 2021
Border taxes on carbon emissions, new brake on dirty energy
Returning the 54% preponderance in power generation to the CFE would make it even more difficult to fulfill the commitment to reach 35% clean energy by 2025, even including nuclear energy.
In the midst of the greatest global change in history towards a clean electricity generation matrix, President Andrés Manuel López Obrador maintains his policy of rescuing the Federal Electricity Commission (CFE) by establishing its preponderance of 54% of power generation regardless the technology it uses or if energy transition objectives and international agreements on reducing greenhouse gas emissions through electricity production are postponed.
Just in November of this year, the COP26 climate conference in Glasgow, Scotland, has increased the pressure to end fossil fuels, and coal in particular, with the signing of three multilateral commitments to gradually abandon electricity generation with hydrocarbons, responsible for 25% of CO2 emissions.
What humanity should eat to stay healthy and save the planet
What we eat needs to be nutritious and sustainable. Researchers are trying to figure out what that looks like around the world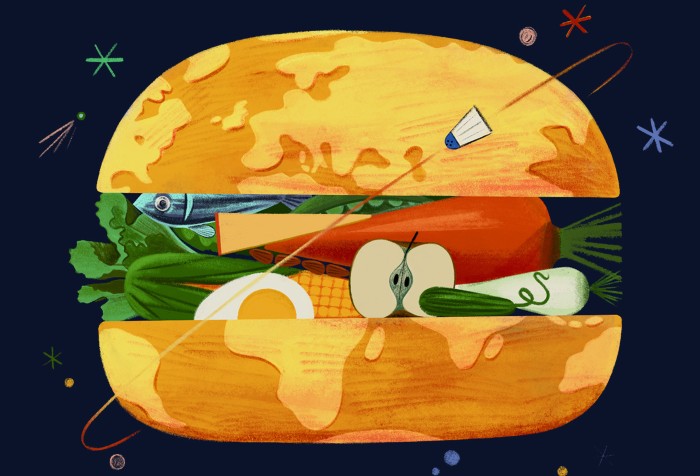 Illustration by Paweł Jońca
A clutch of fishing villages dot the coast near Kilifi, north of Mombasa in Kenya. The waters are home to parrot fish, octopus and other edible species. But despite living on the shores, the children in the villages rarely eat seafood. Their staple meal is ugali, maize (corn) flour mixed with water, and most of their nutrition comes from plants. Almost half the kids here have stunted growth — twice the national rate.
In 2020, Lora Iannotti, a public-health researcher at Washington University in St. Louis, and her Kenyan colleagues asked people in the villages why the children weren't eating seafood, even though all the parents fish for a living; studies show that fish and other animal-source foods can improve growth1. The parents said it made more financial sense for them to sell their catch than to eat it.
MARIO MOLINA CENTER FOR STRATEGIC STUDIES ON ENERGY AND THE ENVIRONMENT
CDMX